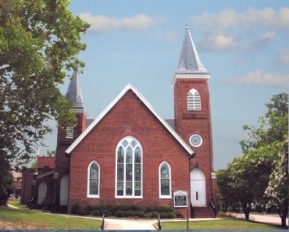 Louisburg has the distinction of being one of the oldest Methodist settlements in the Nation. It was part of the Tar River Circuit in 1791. The congregation has met at the current site since 1859.Louisburg United Methodist Church is proud of it's continued commitment to ministry in the local community, as well as through the North Carolina Annual Conference. The church also has a long relationship with the United Methodist-related school, Louisburg College – the oldest private two-year college in North Carolina.
We celebrate and appreciate our history at Louisburg UMC; seeing it as inspiration to serve and be in ministry in our present time.
For a complete history of the Louisburg United Methodist Church dating back to 1785, feel free to download this book written by Sarah I. Davis entitled: Covenant Made on Earth: A History of the Louisburg United Methodist Church 1785-1995.