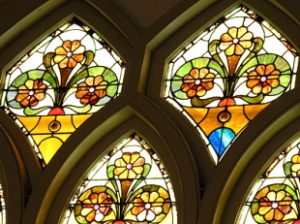 The worship is at the heart of every Christian community. Worship is the time and place where we gather together to praise and thank God for all the blessings in life. We worship and lift up Jesus Christ as our Savior and Lord. We hear the Good News proclaimed, we give witness to its power to change our lives and our world, and we are sent out to share the message of Christ, and the blessings of God with all people.
Regular Sunday worship at Louisburg UMC begins at 10:50 am. For logistical information about how to attend our worship services, please see our Directions & Visitor Information page.
While our style of worship may be considered "traditional" (hymns, liturgy, creeds, sacraments), the expressions of our praise and faith flow from our daily experiences living in God's grace and love. We use an eclectic mix of expressions which include our music, visual scenery, and presentation of the Gospel (occasional skits, video, etc). We like to think of our traditional worship as inspiring our contemporary lives.