Missions
Focus On: Working Group Formation

Poverty often means a life lived in isolation, unconnected even from those who share the same struggles and challenges. A Zimbabwe Orphans Endeavor (ZOE) working group provides orphans and vulnerable children a community where they experience understanding, compassion and acceptance. Together, they begin their journey towards a better life.
To form a working group, ZOE social workers first contact community leaders and local officials to educate them about the empowerment approach and to ask for their help in identifying children. During the first meeting, the children and their young caregivers learn how they will change and improve their lives within three years. Then ZOE takes a step back.
Working group members elect their own leadership, make rules to guide their meetings, choose a group name and decide where to hold weekly gatherings. These once-marginalized children learn from ZOE staff that their community and their Hope Companion partner have faith in their ability to succeed.
The eldest child from each family attends weekly meetings to discuss their activities, both achievements and challenges, and to share in prayer and reflection with each other. Additionally, ZOE's staff and selected community members host regional training sessions covering food security, health and disease prevention, business management and child rights.
One of the first actions the group takes is to select a project, such as a group farm, which they undertake together to quickly secure food and generate income. Because of your support, ZOE is then able to provide the basic training and resources they need to begin.
Icyuzuzo Mutete Working Group, Rwanda
Partnered with the Louisburg Group, 2014-2016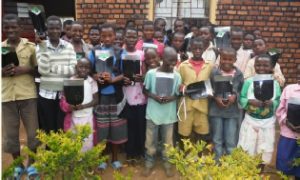 Below is the list of names recorded by our ZOE social worker during group formation; there are 34 households and a total of 115 members. The names in bold are heads of household, followed by their siblings and dependents. ZOE works with orphaned and vulnerable children ages infant through college age. Although ZOE obtains name lists with both first and last names, ZOE uses first names only in public lists to preserve the privacy of children in the program. (Usually we list the baptismal name which is English or French, in some cases only the Kinyarwanda name was available.)
Many of the children currently in Rwanda's program have no parents but are living with an elderly grandparent or caregiver who may be disabled (names in italics). It is often the case that such arrangements include shelter only and the caregiver is unable to provide food, education, health care or other support which children need. Child rights is especially important in such situations so that the children are not abused.
Because they are living in extreme poverty situations, children joining the ZOE program often lack birth documentation and have suffered multiple traumas in their young lives. Occasionally the children give conflicting information on their names and ages. Additional orphans are frequently adopted by the group, and a small percentage of children will leave the group due to family reunification or other reasons. ZOE strives to keep the list as up-to-date as possible. All the names on this list represent real children in need of your prayers.
We encourage everyone to pray for the children in our working group each day. We also encourage you to take the time to read out their names in prayer as you are able. Stay tuned for additional information on our working group and how you can partner
with ZOE.
Adeline 19
Alice 14
Sandrine 1
Anitha 6
Xaverine
Adeline 12
Blandine 6
Thacien
Ahishakiye 14
Mbonimana 10
Alexandre
Aline20
Théogène 15
Mbarushimana 10
Rukundo 4
Gihozo 4
Xaverine
Alphonsine 11
Gerard 8
Jacqueline 4
Valerie
Ange 18
Jean Claude 15
Joselyne 11
Vestine
Angelique 18
Denyse 13
Clemence
Cecile 18
Emmanuel 16
François 11
Joseph 8
Annonciata
Chabani 17
Mukaniyonizera 14
Tuyizere 10
Muhamud/Pauline
Chantal 18
Jean Claude 15
Damien 12
Eric 9
Christine
Claudine 15
Nkeshumugaba 13
Ingabire 10
Kamufozi 7
Tuyisenge 5
Laurence
Damascène 19
Aimée 11
Nizeyimana 10
Kwitonda 14
Simbi 6
Bibiane
Emilienne 19
Clementine 14
Olivier 11
Diane, infant
Emmanuel 17
Chantal 13
Jeannette 8
Vestine
Emmanuel 18
Donatha 14
Beatha 12
Alphonsine*
Emmanuel 19
Sophia 19
Verediana
Emmanuel 14
Jean Claude 11
Florence 6
Seraphine
Fabien 21
Jeannette 19
Jean Claude 18
Mukankusi 15
Tuyishimire 13
Mukamuganga 9
Mukakarara 7
Byiringiro 4
Console
Fabrice 13
Esther 6
Dorcas 4
Alphonsine
Ferdinand 21
Fiacre 18
Valentine 13
Gaudence
Francine 21
Olive 18
Florence 15
Donath 5
Berthilde
François Regis 21
Bertin 19
Julienne 17
Nadine 14
Claire 10
Izabera 6
Izabayo 6
Iraguha 6
Clothilde
Imanishimwe 17
Imanizabayo 12
Chantal
Iradukunda 15
Nshimiyimana 7
Hakizimana 4
Devotha
Jeannette 20
Vestine 18
Devotha 16
Godeleive
Jean Baptiste 15
Théogène 14
Thérèse
Jean Baptiste 20
Jeannine 13
Olive
Jean Baptiste 20
Jean Claude 17
Jean Marie Vianney 14
Josiane 12
Evariste 7
Vestine*
Charles*
Jeanne d'Arc 20
Alphonsine 17
Igirimpuhwe 11
Mahoro 6
Marie
Josiane 20
Sophia 15
Ezechiel 13
Marie Rose 11
Abraham 4
Pauline
Nzabonimpa 12
Gisubizo 9
Tuyizere 7
Pascasie
More Information
For More Information Visit: http://www.zoehelps.org
See how orphans lives are transformed: http://www.zoehelps.org/resources/mission-moments/
Soapstone UMC's visit to their working group in Kenya: