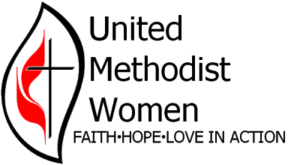 Every United Methodist Church has the United Methodist Women (UMW), which is an organization whose primary purpose is empowering women in their faith, and in mission to others in their communities and around the world.
This group is open to all women of the Church. We have two Women's Circles which meet monthly from September through May, one in the morning and one in the evening, so you can pick the time of day that's most convenient for you. The morning Circle meets the second Monday of the month at 10:00 a.m., usually in the Fannieleen Lee Fellowship Hall of the Church with Linda McLaughlin as its Chair. The evening Circle meets the first Monday of the month at 7:00 p.m., usually at one of its member's homes, with Meloni Bethea as its Chair.
The United Methodist Women are actively involved in the life of the Church in many ways. They provide bereavement meals for members of our Church family who are grieving the loss of a loved one. They offer spiritual enrichment bible studies on various topics, usually in the spring time. They make quarterly visits to a local senior living facility, sharing the love of God through prayer, songs, food and activities. To encourage fellowship, they sponsor a Wednesday night catered meal, once a month. Their big project is the Annual Church Bazaar, held on the third Saturday of November each year. Proceeds from this event go to support local, U.S. and global missions.